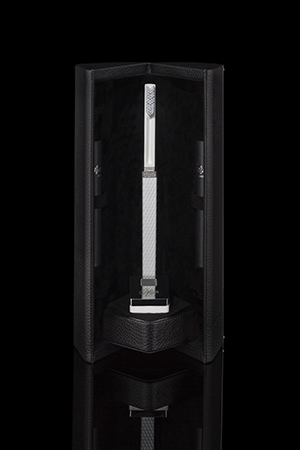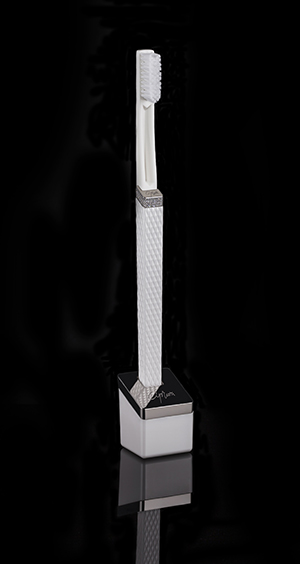 APRIORI PARTNERS WITH ELBI & HARRODS 'FASHION RE-TOLD' CHARITY INITIATIVE TO RAISE MONEY FOR NSPCC
Apriori's Extraordinary Diamond Edition toothbrush will be one of three exclusive products raising money for the vital work of the children's charity NSPCC
Apriori, the makers of beautiful and unique toothbrushes, are collaborating with philanthropy platform Elbi and luxury department store Harrods in aid of the NSPCC.
Starting today, Elbi, co-founded by supermodel and philanthropist Natalia Vodianova, will host three exclusive 'ElbiDrops' to raise money for the vital work of the NSPCC, including an Apriori Diamond Edition toothbrush worth £5,000.
Supporters will be able to pledge their donations via the platform, with the person who makes the largest donation being rewarded with one of the incredible gifts on offer – including the diamond edition toothbrush.
The launch is part of the world-famous department store's charity initiative Fashion Re-told. A Fashion Re-told Pop-up store was first created by Harrods in 2018 to raise funds for the NSPCC; and the project was repeated this year on Marylebone High Street. Now the initiative has gone digital.
Apriori founder, Kiril Guriev, said: "I couldn't be happier for Apriori to be involved in such a good cause. This a unique project and we look forward to helping to raise money in this exciting and innovative way."
Elbi co-founder, philanthropist and global super-model Natalia Vodianova commented: "Children should never have to face cruelty no matter where they live in the world. I am delighted Elbi is working with Harrods and NSPCC on this project.
"We at Elbi strongly align with the Fashion Re-told story and are happy to launch an ElbiDrop with a number of incredible items to raise funds via our platform."
Elbi will join forces with Harrods to provide three exclusive 'ElbiDrops' for customers to purchase via the Elbi platform, with at least 90 per cent of the proceeds minus any payment processing going to the NSPCC.
The NSPCC is Harrods' long-standing charity partner; together they have already raised approximately £800,000 to help fund the charity's services in London.
See the project here: https://harrods.elbi.com